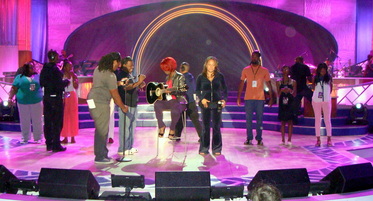 Rena Hayes a spirited highly energetic worshipper who has been a Minstrel of music from the age of 16. Rena is a Lead Musician, Head Choir Directress, and Chief Minstrel of Worship. She is also an ordained Minister.

Rena is no stranger in leading people into the presence of God. She has an anointing that can only come from spending time with God, Rena she has a Contemporary Christian Rock sound, blended with an Urban Gospel Edge, that brings an undeniable message to provoke the presence of God while compelling others to praise Him.

Rena has written, arranged and produced two previous projects entitled" Judah" and her solo project "Yet Will I Praise Him" which has been in rotation on several radio stations. And now her latest project entitled "Awesome God" is set be released.

Rena's goal for this C.D. project is for people's ears to be drawn to her music, hearts to be touched by her lyrics and spirits to be lifted by the message, while compelling them to a closer relationship with Jesus Christ. Every listener will be blessed by her music and encouraged by her message. Join her on her journey of praise!

Rena has been featured on the Dr. Bobby Jones show, his reply was "Rena where have you been! Simply Fabulous" she has been featured on a host of other shows including Dorinda Clark-Cole's tv show "Dorinda", Pastor Dan's "I'm Just Saying" as well as performed several times on TCT Live World Wide, CTN Live, Impact Network and has been interviewed by several radio hosts. Rena's music has been in rotation on several local and national radio stations. She was also featured on Praise 102.7 FM Radio One "Made in the D" Artist of the Season.

---
All rights reserved Rena Hayes Corp. 2013